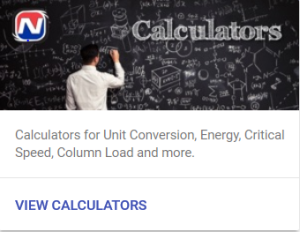 When a linear motion solution is in place & running, it's easy for the casual observer to think it looks easy. That's what our industry is all about; making the difficult or even impossible look easy.
But what few people outside the industry realize is just how much work needs to go into the design of a successful linear motion system. The old adage "Measure twice, cut once" doesn't even begin to cover all the variables, that have to be dealt with.
Now, a new app looks to make that successful design at least a little easier. The Design Guide Pro not only offers selectors for Bevel Gears, Worm Gear Jacks, Bearings and Electric Cylinders, but it also has a calculator section. Here, you'll find tools to help you establish Energy, Critical Speed, Column Load, Torque and Nut Life as well as helping with Unit Conversions.
All in the palm of your hand. Check it out today by clicking here.
#MakingMotionWork